Hello,
I bought a used CFA633 TC-KS-DP2006 unit and trying to get it to communicate with the yellow serial port on my 680i motherboard.
I bought the WR232Y22 cable which has plugs with standard or alternate, but neither of these produce a connection.
When the power is connected to the LCD, it says "WANJet ))) Starting", but does not respond.
I've tried both serial ribbon cable ends and it doesn't seem to get any sort of connection response.
This is what my Com1 port settings are, I have no idea what they should be, but I changed the speed from 9699 to 19200, but no luck: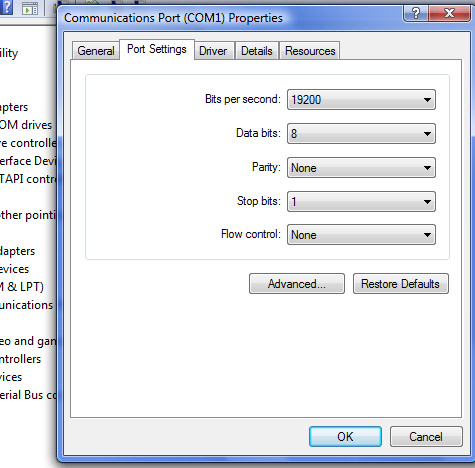 Any thoughts or suggestions?
How can I tell if I should use standard or alternate, my motherboard serial port has a P1 that I connected the red wire side to, but there arn't any other details from the manual that indicates any more about the serial connection.
Looking for additional LCD resources? Check out our LCD blog for the latest developments in LCD technology.