crystalfontz friends got a lcd it was very easy to install and the problem now is that it does everything I expected it to do:
-no servers provide cpu temperature
-does not show the songs or not with winamp equalizer or with foobar 2000
I am using windows 7 ultimate
Phenom (tm) quad core processor
nvidia 9600 gt gforece.
I hope to help me because in my country is worth far this lcd so this discontinued
and I really disillusioned lot.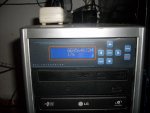 I have no exact reference
crystalcontrol2 use
lcd smartie not work for me to recognize the lcd pc blocked
Looking for additional LCD resources? Check out our LCD blog for the latest developments in LCD technology.
Last edited: