Hi,
I have interfaced a CFAG320240CX-FMI-T LCD to an HC9S12DP256 microcontroller and am able to write text and graphics, but have some other issues with vertical and horizontal lines appearing in the display at certain times. Here's an outline of what I'm experiencing:
1. Vertical Lines on Initial Startup:
The first time the LCD becomes active (after reset and initialization) many vertical lines appear in the display. These lines fade away over time and do not return until the unit is powered down and re-initialized. I can reset the microcontroller and re-initialize the LCD without removing power from the LCD and the lines do not re-appear. I have attached a picture of these lines here (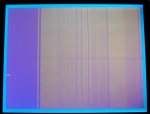 ).
2. Horizontal Line on Microcontroller Reset
When the microcontroller is reset via the reset switch, I am experiencing a very defined white horizontal line appear at a random position on the screen. This line slowly fades away once the LCD is initialized again, but takes a fairly long time to do so. Again, some pictures are attached here (
,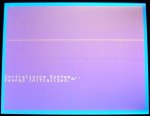 ). The first picture is right after a reset and the second is during re-initialization a few seconds later.
If anyone has any input on what might be wrong here, please let me know... any help would be greatly appreciated!
Thanks!
Looking for additional LCD resources? Check out our LCD blog for the latest developments in LCD technology.