Good evening CF Tech,
I have replaced the LCD display with a new one and tested everything on the CPU and ensured all signal were correct Vo=1.0 V DC, all other signals were triple checked. After powering up, the LCD display worked perfectly!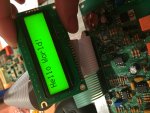 Thank-you very much for the advice and help!
Regards,
Chris.
Looking for additional LCD resources? Check out our LCD blog for the latest developments in LCD technology.